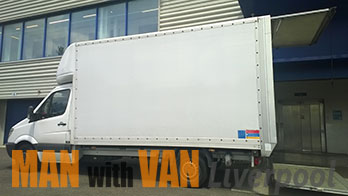 The UK's man and van removal industry is a highly dynamic segment of the economy and notable changes may take place in a matter of months, even weeks. In order to better understand at how the industry works and performs, it might be worth it to look at it in stats and figures. The data for 2015 is in, and industry statistics were prepared by a number of leading publications showing movement, service costs, peak periods etc. The figures listed below, in combination with the start and end point of property removals can be used to determine the net migration to and from cities in UK.
Size of man and van removal jobs in 2015
The data gathered and analysed by industry specialists shows that in 2015 most people relocating a small sized home preferred to do their own removal, while households relocating to/from larger homes preferred to use a quoted, full removal service. Below are listed the percentage amounts of removal jobs arranged according to size, for the whole of 2015.
| | |
| --- | --- |
| Partial home removal | 7.61% of all jobs |
| Studio removal | 3.59% of all jobs |
| 1 Bedroom home removal | 17.86% of all jobs |
| 2 Bedroom home removal | 28.74% of all jobs |
| 3 Bedroom home removal | 28.35% of all jobs |
| 4 Bedroom home removal (and above) | 13.85% of all jobs |
The trend is confirmed by the percentage breakdown, showing the highest amount of removal jobs were for two and three bedroom homes. The lowest number was that of studio flat removals.
The busiest dates and months for moving places in 2015
Industry statistics gathered during the twelve months of 2015, show that the three busiest days in the entire year (in terms of removal jobs) were:
31st of July – the busiest day of the year;
30th of April – the second busiest day;
29th of May – the third busiest removal day;
In terms of the busiest month for removal jobs in 2015, the data is quite evenly spread out across the calendar, with each month accounting for an average of about 10% of all removal jobs. The highest number of property removals in 2015 took place during the months of July and August. The largest difference in amount of jobs per month, was between January and December. The figures for each month are listed below.
January – 5.07%
February – 7.16%
March – 9.27%
April – 8.67%
May – 10.08%
June – 9.07%
July – 11.31%
August – 11.62%
September – 9.89%
October – 8.55%
November – 6.54%
December – 2.77%
The busiest day of the week for removal jobs in 2015
Man and van removal companies in the UK saw the highest number of jobs in 2015 on either Friday or Saturday. Sunday turned out to be the least preferred day for property removals in 2015. Figures listed below indicate that people would rather move house on weekends and take advantage of their free time, rather than take time off work in order to move on a weekday – no surprises there.
Number of removal jobs spread across the seven days of the week
Monday – 15.09%
Tuesday – 10.6%
Wednesday – 11.28%
Thursday – 14.39%
Friday – 26.48%
Saturday – 18.27%
Sunday – 3.89%