One great way to speed up your relocation is by hiring a moving van. The problem is that even if you hire the most advanced and secure truck in the world, your moving home experience may not go as planned if you:
Fail to choose a suitable van
Hire a vehicle from an unreliable company
Don't know how to drive a such a van
There are a number of things you must take into consideration if you are planning to remove your furniture and possessions with a rented van.
When should you hire a van
Believe it or not, using a personal vehicle to transport moving boxes and other items is often much more expensive, risky and unpractical compared to using a specialised transit van. That is because moving vehicles are usually equipped with protection gear and their big capacity will allow you to relocate all of your belongings in one or two trips which will greatly reduce your fuel costs. Also, hiring a van is cheaper than booking an entire team of movers.
Selecting the right van for your needs
There are all types of vans and trucks from which you can choose. Most full home removals can be organised with just one Luton truck. However, if you are planning a small relocation, it would be better if you go for something more compact like an SWB or a regular transit van. It is best if you take the time and estimate the amount and weight of the items you want to move. That will help you pick a vehicle with a size that is right for your relocation needs. Otherwise, you risk spending a fortune or a massive truck to transport just a few boxes or ending up with a useless tiny vehicle that is too small even for your sofa.
Things to do before you sit behind the wheel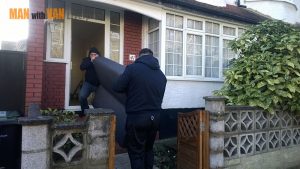 Make sure you research the van hire company well before you rent a vehicle from it. Read the firm's reviews and see whether it is fully insured. It is also important to find out whether the company updates its fleet of vans regularly or not.
Another thing you should consider before reaching for your wallet is the moving truck's weight, especially if you have a standard driving license. Holders of this particular license in the UK are allowed to drive smaller moving vehicles like transit vans and Luton trucks. However, if the vehicle weighs more than 3.5 tonnes, you will need to have a C1 or a C driving license category. Don't forget to bring your license with you when you go to pick up the vehicle. Also, some companies will need to verify your current address in some form. Therefore, you may also need to carry a utility bill or a tax bill.
Before you get inside the van, take a good look at it to see whether it has any scratches or bumps. In fact, you can even take a few photos with your phone in case the van hire company decides to blame you for the damages later.
Finally, drive the moving vehicle carefully and slowly. Vans are heavier than a regular car and take more time to stop, especially when they are fully loaded.