Finding a reliable man and van in Ormskirk can be a difficult task. However it is recommended when dealing with big home removals, office removals that usually involve expensive office equipment or if you need to move an exceptionally big or fragile item. Handling your items with care when moving them to a new location is the most important thing yet it's usually beyond the technical experience of the average person. A better idea would be to find a professional man with van in Ormskirk to do the removal for you. It's less risky and you may consider it a sort of an insurance for your items good condition.
Thirteen miles north of Liverpool city center lies the town of Ormskirk. It's population is about 24-25 thousand permanent residents. Unlike most neighbouring towns and villages the etymology of it's name is not Anglo-Saxon. It's an Old Norse name, that translates as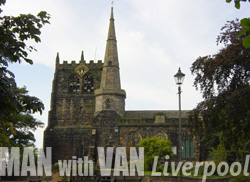 Ormr's church. Ormr is an old viking name that means dragon of serpent.
In 1286 Edward I of England gave Ormskirk a Royal Charter that established the market. Ever since 1292 Thurdays has been established as the market day. To this day Ormskirk is a market town but it's unparished area and has no parish counsil.
Ormskirk most of it's visitors with the various shops, bars and restaurants. For recreation the town can offer to visitors it's three parks. The oldest one is Victoria park that dates back to the end ot the 19th century. Coronation Park is the largest of the three, cituated in the center of Ormskirk. It's the preferred location for sports and other activities. The third one – Ruff Wood, is located at the edge of the town.
Ormskirk is the home of Edge Hill University which was established in 1885 and gained university status in 2006.
| | | | |
| --- | --- | --- | --- |
| Prices | 1 Man (Driver) | 2 Men (Driver +1) | 3 Men (Driver +2) |
| 1 hour (a minimum of 2 hours) | £30 | £50 | £65 |
| Half a day (Up to 4 hours) | £120 | £180 | £220 |
| Full Day (up to 8 hours) | £250 | £320 | £420 |
Have any questions? Call 0151 253 0777
Our company is ready to help you with any removals in Ormskirk that you may need to do. We have some of the best movers in the industry and our man with van company is among the leaders of the removal business in the greater Liverpool area. You can entrust your items to our skilled movers, each of which has years or experience. Our team is what makes us the preferred choice for man and van in Ormskirk and we guarantee customer satisfaction. It's not a job well done if out clients are not left with a smile on their face after the removal.
Consider using our moving services in Ormskirk and you will benefit from our:
Professional attitude
Fast removal services
Safe transportation
Supplementary services like

rubbish removal and storage

Reasonable pricing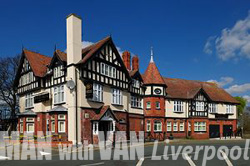 No matter where you are in Ormskirk we certainly cover your part of town and are prepared to transport your items to any part of Liverpool. We will send a van at your address on a day and time determined by you. Regardless whether it is the morning, noon or afternoon is when you prefer – we can do it. The services we offer are extremely flexible and planned with the customer's specific needs in mind.
Most companies that send man with van in Ormskirk have fixed prices and hidden costs. Not us. Just like our services we try to keep our prices flexible as well. So if you're in a need of man and van hire call Ormskirk's best removal company. Contact us via phone or email today for a free quotation (nonobligatory).