If you got a day off work on Monday, or you simply have a few hours to kill in Liverpool city centre, then here are some of the more interesting places and offers where you can really spend some quality time.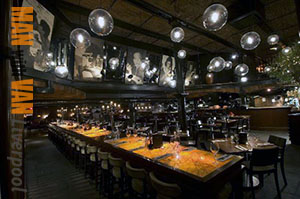 Lunchtime offers in Liverpool city centre have never been more delicious and tempting! If you enjoy wining and dining at the Albert Dock, then by all means check out Gusto's lunchtime special offers. Patrons can enjoy a delicious lunch meal, accompanied with a glass of house wine or a pint of beer, for the very reasonable nine, ninety five. Just don't miss out – the offer is available from twelve at noon to five in the afternoon. Bon apetit!
When strolling through Liverpool city centre, stay clear of St George's plateau as St George's Hall itself is under some repairs. City authorities have cordoned off the building as workers are starting four weeks of repair work on the historic building. Some of the roof tiles have started to give way due to adverse weather.
A new trendy place is about to open in downtown Liverpool – the Red Door Bar is almost ready for its first patrons. If you like that kind of outing make sure to book well in advance – the place is expected to be full to the brim when opened. Red Door, on Berry Street, is the latest brainchild of the team who brought the Live Café to Liverpool in the late nineties. The managing trio who seem to know their entertainment inside out, have invested a decent amount of money into their newest venture – half a million pounds to be precise. The four storey venue on Berry Street is nearly ready, when open the bar and restaurant will train and employ more than twenty staff. Good on you Red Door!
James St underground walkway is off the grid. The Water Street entrances as well as the walkway itself are closed off for two weeks straight now due to improvement and repair work. Local authorities say that the works will not affect traffic or schedule of trains coming and going from the station. It is expected for maintenance and repair to continue until mid-April. In the meantime, passengers should use the James St station entrance for tickets and access.
The Walker Gallery is staging a free, drop-in parent – children event this Monday. Aimed at young children, the event will keep them busy and entertained. The Walker Gallery is also hosting a number of other events for grown-ups too, so check out their schedule program and pick an event that meets your taste and criteria.
Liverpool city centre is undergoing certain changes and improvements prior to the summer season in order to be more welcoming and accommodate for more tastes and likes. City residents and visitors will have access to a number of new venues and places of interest. For more information on what's up in Liverpool city centre in the upcoming months, visit the official website and enjoy your time in the city!