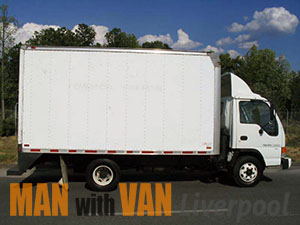 Most people who are moving house would be using the services of a specialised man and van company, unless of course the relocation is so basic that there is really no need to use professional man and van services. Regardless of how you will be conducting your house removal, it won't hurt to know how to stack the removal truck safely and properly.
Loading the removal vehicle properly means using all the available cargo space efficiently and ensuring safe transit from A to B. Provided you are not using a specialised man and van service, you will have to choose your own removal vehicle. In all cases, rent a vehicle which offers at least ten or fifteen percent more cargo space than what you actually need.
The loading process always begins with the heaviest and biggest items like appliances, furniture etc. When loading all these big boys on board, get some help as lifting and shifting of such objects is physically demanding and likely to cause injury if not done properly. In all instances you need to have a moving dolly – it will make life much easier for everyone. Relying on physical strength alone can only get you so far in through the removal.
Once the heavy objects are on board, you need to start balancing the load's weight as this would ensure a safer trip. In order to balance the truck load properly place heavy items at the far wall of the cargo bay – the one next to the cabin. You should position heavy items on opposite sides of the cargo bay as these counterweight and keep the vehicle more stable. Actually balancing the load weight is not hard at all – since you roughly know how much your items weigh you have a pretty good idea of where they need to be placed inside the truck.
Bulky but not as heavy items like table tops, head boards, mattresses and sofas etc. should be positioned alongside the left and right side walls of the cargo bay. If possible all these items must be placed upright in order to save cargo space. Items traveling in upright position should be fastened and secured to the metal framing under the truck's canopy. Trucks with hard wall cargo containers also have latching on the inside.
The next group of items goes in the middle of the truck's cargo bay, where 'middle' is only an approximation of course. These items are dressers and bookcases, tables and chairs, china cabinets etc. Remove any drawers or other moving parts from such pieces of furniture prior to loading as they will be lighter to shift, return drawers prior transportation but remember to secure them tightly using tape or roping. It is best to position these objects against larger items along the left and side wall of the cargo bay.
At this stage you can start loading boxes, bags and other small items and containers. Fill any voids under tables or chairs with smaller boxes and then position larger ones around them as this allows for tighter, more efficient cargo space utilisation.