Arranging for removals insurance is highly advisable for all people moving house. Not that the man and van guys are out to cause damage or misplacement to items in their possession, but things can change at any time – after all you are entrusting your belongings into a large box on wheels.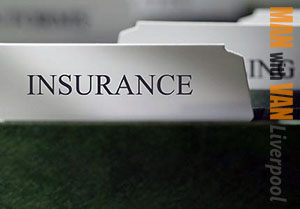 If you already have a contents insurance policy with a given insurer, by all means check your paperwork and see if a house removal and transit of items is covered by the policy. In case you are not too good at deciphering such documents – call up the insurance people and clarify things.
If the insurance policy you have does not cover removal and transit of your goods, then you will be asked to pay an extra premium, known as outside the home or personal possessions supplement. The extra premium won't cost you too much, most of the time the amount gravitates around thirty pounds.
Also, check with your man and van company on what type of insurance coverage they got. Good removal companies hold full liability insurance and will be happy to provide you with a copy of the documents, at least in theory anyway.
Generally, comprehensive contents insurance covers accidental damage or misplacement of items during handling and transit, as long as customers are using the services of a licensed, professional man and van company. In the case of an insurance event (damage, loss etc.) customers are bound by a time limit to the claim i.e. they need to file the claim within a set number of days of the event taking place. Filing a claim outside the time limit will result in a penalty (this doesn't mean the insurers won't process the claim though). Usually the excess asked on such contents insurance policies is about fifty pounds.
In many cases, the man and van company will have contents insurance coverage included in the service quote they provide. Check with the movers on what is the claim limit on their policy. If the claim limit seems a bit low, speak to the movers and see if it can be increased. Also, check what things are covered by the man and van company insurance, usually these are:
Scuffs, dents, scratches to items;
Financial docs such as deeds, bonds etc.
Long delays due to adverse weather conditions;
There are certain things to consider when choosing an insurance policy, or when extending the coverage of the current one. One of the more important things to note is that many insurers do not cover damage or loss to items if customers have 'self-packed'. Only when removal boxes have been packed professionally (and this is noted in the paperwork) then customers can file a claim in the case of an insurance event.
Usually man and van companies offer professional packing of items as part of the default removal service secured by customers. Discuss packing, as well as other additional options concerning the service as early in the discussion as possible as this will save you a lot of confusion and potential frustration later on.