When people are moving from one place to another they must pack all their belongings properly and meticulously to protect them from any unwanted accidents during transit. Amongst the hardest items to pack properly are works of art. This is why we have decided to write down a tutorial on how to build wooden crates for paintings.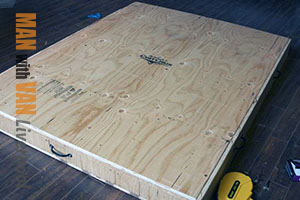 Commence your building project by purchasing all the necessary materials. For this project you will need several planks of wood, several sheets of hardboard, a number of foam pipes, nail, instrument and bubble wrap. You can easily purchase all these materials from any hardware store in your area.
Now that you have all the necessary materials, grab the foam pipes and cut them vertically so that they can fit the four sides of your paintings. However before applying the pipes on your paintings make sure that the paintings are completely dry. If your paintings are still wet, the pipes will damage them by leaving marks.
Next grab your instruments and start building the wooden crates by building a wooden frame. Measure your paintings with the foam pipes on and cut the wooden plank in these measurements. Then with use a hammer to nail the wooden piece to one another.
Continue by cutting the hardboard in a size that will fit into the wooden frame that you have built. Then cut a piece of bubble wrap and glue it to the interior side of the hardboard. Once done, nail the hardboard to once side of the wooden frame and place one or two of your paintings in the wooden frame. Then do the same thing to cover the other side of your wooden crate. Never place more than two paintings in the same crate as the crate will be too heavy to lift.
Once you have packed all your paintings in wooden crates, label the crates accordingly so that you know which paintings are where. You can also wrap the exterior of the wooden crates with bubble wrap if you wish to add a supplementary layer of cushioning.
If all this seems too time and energy consuming for you, you can always use the professional packing services of a man and van company. Nowadays lots of moving company offer packing services as a standalone service, so you won't have a hard time finding a company that provides this particular service. Also by using professional man and van services you will have the comfort of knowing that your belongings including your paintings are packed properly and meticulously by people with years and years and years of experience.
As you can see, packing works of art isn't as hard as it sounds and more important you can see that you have several options on how to approach the task. So know roll up your sleeves and decided whether you will pack your paintings on your own or whether you will use the assistance of professional movers.
Regardless which approach you choose, at the end you will guarantee the safe transportation of your favorite paintings.