Working from home becomes more and more popular nowadays. It is only natural, bearing in mind the opportunities presented to us by the new technologies. In your home office you are more likely to be productive and satisfied by the quality of the job you do. When it comes to moving your home office however, there are some difficulties that may arise.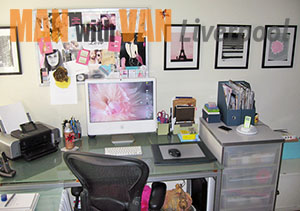 On one hand, a home office is not a regular office, so the rules that apply to commercial removals are quite unlikely to be fitted in your case. On the other hand, bearing in mind the fact that you have some equipment, archives and other specific items that may require special handling while relocating, you may not use the same tricks that you would use for relocating the rest of your household.
However, you should not feel stressed out about your home office removal at all. This is the first mistake many people make in similar situations, and you would want to avoid it at any cost. There are just a few things that you should have in mind and everything is going to be more than fine.
First, do not forget to inform your man and van company that you have a small home office to move along with the rest of your household. Man and van technicians are used to carrying out such tasks and they will be able to provide you with useful advice that you can follow in order to make the process less full of hassle and stress. In addition, they will have the opportunity to prepare themselves for handling the job and there will be unpleasant surprises neither for them nor for you once the moving day comes.
The second very important thing that you should have in mind is that packing, just like in the case of every removal, is essential when it comes to changing the place of your home office. Do not rush to pack every single piece of equipment and documentation that you have! Think about which the least used items in your home office are, e.g. the un-essentials, and pack them first. All the things that you are going to need immediately after you move in the new place, so that you can continue working properly and comfortably, like your laptop and the printer, you will have to pack separately and get with you in the car.
At present, Internet is the most important aspect of every business. It is especially important when you work from home, so make the arrangements for secure and reliable internet connection at the new place in advance, so that everything is already installed once you get to the new place.
Managing the deliveries, if you receive such or regularly send packages while working, is another thing that you should arrange. Inform your clients about the change in address, and make sure that every delivery you receive at your old one is forwarded promptly to your new place, so that any misunderstandings are resolved in advance.