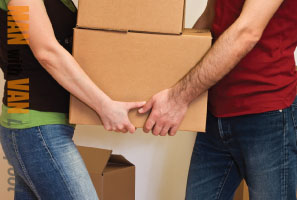 Property removals usually require moving professionals to lift, push, pull and lower different loads. Loads come in a variety of shapes and sizes, from a small vase or piece of china, to bulky flat panel TVs and heavy furniture units. Lifting, lowering, pushing and pulling of heavy or awkward items can indeed cause a personal injury if not done properly. This is not so much to do with people dropping things one another, but rather the chance of causing oneself a personal injury.
Professional movers and man and van service providers train their staff in accordance to applicable industry health and safety regulations. Each country or national industry might have its own take on what is safe and what is too heavy, but generally personal or physical characteristics are unified across the board in order to come up with a universal guide to safe moving and handling of items. The lifting and moving guidelines have been developed with the assistance of medical specialists who have an intricate understanding of how the body works, and the way it behaves under physical pressure. Generally, if an item is being moved by one single person, the item or load should not exceed twenty five kilos. If the person in question is sufficiently trained in safe moving techniques, the load may be increased, though this would be out of the safe zone. Movers should also remember that repetitive moving of loads, even though they may be within safe weight limits, will decrease their strength and work capacity which can also be a risk of personal injury.
Reaching out with a load is also a problem for the human body. Stacking of items or loading them inside a van is an example of reaching out with a load. This movement exerts a lot of stress on the lower back. Professional movers and man and van service providers should remember that the further one reaches out with a load, the less movement capacity they have. The maximal safe reach out distance is no more than seventy centimetres from the base of the spine. In instances of lifting and moving loads, or when loads have to be shifted manually over short distances they must be held as close and tight to the body as possible. Movers must also follow safe lifting and moving techniques when lifting loads off counter tops or work benches, and check weight first.