Moving kits contain the basic set of materials and supplies needed to pack, secure and transport items with relative ease, efficiency and safety from one destination to another.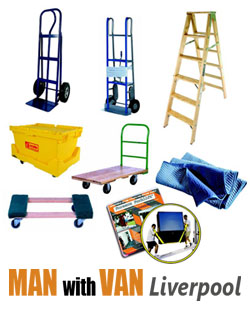 However, there are other pieces of kit, used by professional man and van service providers that really take moving prep work to a whole new level. Specialised man & van companies have to watch out for the property as well as customer items in their care. The premises must be protected from accidental damage such as denting flooring, putting holes in walls, scratching surfaces, chipping corners etc. This is indeed easier said than done, but there clever pieces of kit that make things easier for professional movers.
One of the most essential pieces of protective equipment is the surface protector film. This is a clear, heavy duty plastic film that is placed over floors and other surfaces that need to be spared from wear and tear, soiling or other damage on removal day. The surface protector comes off easily and without leaving residue or trace on any surface. A handy tool to have on any removal is the forearm forklift. This clever piece of equipment allows for safe handling and easy shifting of different sized mattresses. It might be good to also purchase a furniture scratch repair set. This is basically a set of special formula wax crayons that are designed to effectively mask and cover scratches, chips or cracks in wooden furniture, premises woodwork and other wooden objects. Scuff marks are also dealt with effectively using the furniture repair crayons. Even a good moving company is not likely to have a set of these, so consider buying them yourself for extra peace of mind – hopefully you don't have to use the crayons at all.
Man and van companies will also make use of so called webbing van ties or strapping ties. These ties are very important as they are used to secure heavy items inside the removal van for a safe transit. When placed and fastened properly they can also be used to as handles when shifting certain items. If you use strapping ties all you have to do is cut to the desired length and loop one end of the tie. Zip ties are also quite handy to have and many man & van service providers have come to appreciate their functionality and versatility. Zip ties can be used to fasten or secure almost anything, they provide for high durability and resistance and happen to be a reliable piece of kit. Always choose longer zip ties than the ones you actually need – better to have excess than not enough. Picture corners are necessary, especially when shifting pricy paintings of photographs, heavy duty foam corners are now available.