International removals are elaborate projects that are organised and conducted by specialised man and van companies which have the necessary expertise as well as business and technical capacity.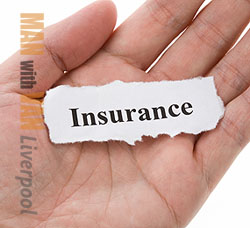 Perhaps one of the most important aspects of overseas man & van removals is insurance. Comprehensive insurance coverage for your belongings will give you extra peace of mind, plus if anything does indeed go wrong you will be glad to have paid the extra amount to have your items replaced or payed out.
When choosing the most suitable international removal insurance, by all means look for an affordable option, but keep in mind that comprehensive coverage is important. The more comprehensive coverage the more insurance events covered by the policy, and the more items you can insure under that policy. In all instances it is better to obtain insurance from a well-established company that has experience and history in international freight insurance. Choose the policy depending on the type of transportation used in your overseas removal. Obviously long distance relocations will require transportation by sea and/or air which specifies the type of insurance policy you need.
An international man and van company would likely have their own freight insurance options, but these usually go through the same large insurance companies that would be able to contact anyway. If you would like, compare the insurance policy options provided by the moving company and the insurer you have approached separately. Keep in mind though, that some international removal companies would require you to secure insurance through them, not an external freight insurer. Weigh your options and consider all the terms and conditions carefully, this would mean a lot of fine print reading but it is to your benefit.
Many of the good international freight insurers have a so called new for old option as part of their policy. This means that in the instance of an insurance event and some or all insured goods have perished, owners would be compensated with new goods. In many cases, large insurance companies can deal directly with the removal company you selected for the project. Remember that the insurance company will have to review and value your goods before drafting out the final policy terms. Each insurer has their own means of estimating value of goods.
Many people aren't sure as to what is the value of the goods in transit, in such cases the insurer will suggest an insurance policy for a higher amount. This might bump up the policy price a little, but higher value means more coverage and better pay-off in the instance of an insurance event taking place. This valuation process is known as estimation of overall value, in the policy the figure would appear as ETV – estimated total value of goods.