Accidents of different nature are not common occurrences in well-organised international transportation but they do happen, when they are least expected. Being prepared for such unexpected and unpleasant
situations is the best thing you can do for yourself and your belongings. In this case, being prepared means obtaining the right type of freight insurance.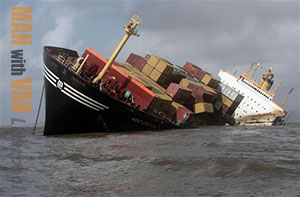 Freight insurance can be obtained through your selected international moving company, or through a separate, specialised insurer. Check which option is available to you as sometimes man & van companies require customers to have insurance as part of the removal service. Protecting your items from loss or damage through insurance will attract additional costs though that is expected.
Usually, the insurance policy, its coverage and payoff amount will depend on a fixed percentage of the estimated value of goods being transported. The value of goods being shipped is estimated by a specialist on behalf of the insurer or man and van service provider. The more valuable items you need relocated, the higher insurance fees you will have to pay. Having said this, it is a good idea to appraise items at a higher value (even though that will cost a bit more) as this means higher payoff amount in case of an insurance event i.e. accident, damage, loss etc.
Generally, the insurance policy will be in effect from the moment when the removal team arrives at your residence and commences packing of items to be transported. The insurance policy's coverage and effect can be made to expire up to fourteen days after goods have arrived at their intended destination. The idea of extending the effect of the policy after items have been delivered is to give you a chance to inspect the load for damage or misplacement.
A good man & van company that operates internationally will have basic insurance coverage as part of their service terms and conditions. Although this doesn't cost extra as it is included in the service price, its coverage is quite limited and probably won't suffice when shifting high value items over long distances. It is better to secure comprehensive freight insurance through the same service provider, or through a separate insurer – though this needs to be clarified with your man and van company of choice. One the same note, many removal companies that do international jobs will refuse to ship goods without comprehensive freight insurance – meaning customers have to get insurance in all instances.
Before committing to a specific insurance policy, take the time and effort to read the fine print and to consider all the conditions of the insurance contract. Liability, percentage of value covered, types of insurance events and payoff of claims are all essential aspects that must be considered very carefully.