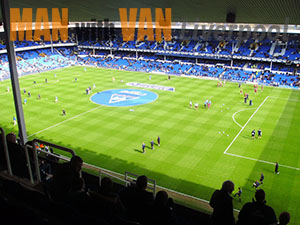 While every soul under the sun knows or at least has heard of Liverpool F.C, much fewer have heard about Everton F.C which is the second professional football club from the English city of Liverpool. While Everton F.C isn't as successful as its city rival, it is still the forth most successful English club on the domestic football scene.
Everton F.C plays its home games in Goodison Park which is one of Liverpool's most noted landmarks and sporting facilities. The stadium was officially opened on the 24th of August, 1892 and was designed by Kelly Brothers who started the project and Henry Hartley and Archibald Leitch who complete the project. The Goodison Park has been the home ground of Everton F.C since 1892 who moved to the stadium from Anfield stadium which is currently the home ground of their city rivals Liverpool F.C.
An interesting fact about Goodison Park is that it is the stadium in England that has hosted the most top tier games. The stadium has also hosted the maximum amount of top tier games since the formation of the Premier League in 1992. It is last this because Everton F.C has never been relegated from the English top tier since 1954.
The stadium is comprises of four stands which are known as Park End Stand, Bullens Road, Goodison Road Stand and Gwladys Street Stand. The last stand is perhaps the most famous stand of the stadium as Everton's most vociferous and boisterous supports stand there. The currently capacity of Goodison Park is exactly 40.157 seats.
The highest attendance of Goodison Park was recorded in 1948 when a total of 78.299 people attended at the local derby against Liverpool F.C. The lower attendance of the stadium was recorded in 1988 when barely 3.703 attended the match which opposed Everton F.C to Millwall F.C.
In 1966, Goodison Park hosted five games (three group games, one quarter final and the semi final between West Germany and the Soviet Union) from the 1966 Football World Cup which has held in England. The stadium has hosted the final of the FA Cup in only one occasion, in 1894 when Notts County faced and won against Bolton Wanderers. Goodison Park has also been used by the England National Football Team on eight occasions the latest of which was in 1953 when England faced and defeated the national team of Northern Ireland.
So even if you are not a football fan make sure that you at least attend at one game in Goodison Park, after your move to Liverpool. You can facilitate your relocation to Liverpool by using professional man and van services. Don't worry that such services may be too expensive because nowadays most man and van companies work with highly reasonable prices that won't even put a dent in your savings.
You should attend at one game because we are more than certain that you will enjoy it fully and slowly but surely become an avid football fan, and who knows you may even become one of Everton's most devoted supporters.