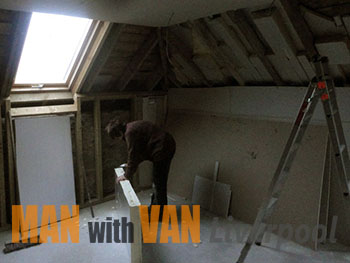 Well, you have just moved in your newly acquired home. Exciting, right? Especially if this is the first property that is actually yours. While the man and van company is handling the unloading and unpacking of your goods, you might be tempted to start a celebration, which is quite alright. Don't forget that owning a house however comes with a lot of responsibilities and the sooner you start taking care of them, the better. Tackling the items on the list presented below will help you maintain your property in a good condition, and will save you a lot of money from utility bills and repairs in the future.
Check out the insulation around the house, and in the attic in particular. Good insulation is a guarantee for an energy efficient home, one that is cool during the summer and warm in winter. What is more, it minimizes the loss of energy, thus considerably reducing your electricity/gas bills.
Lower the temperature of your water heater to 55 degrees Celsius – that's the optimal temperature the device is supposed to operate on, because it brings balance to its energy efficiency and also keep the water at a safe degree.
If you want to breathe fresh cool air at all times while you are at home, you can think about installing ceiling fans at least in the rooms where you are going to spend most of your time in. This is a more cost effective, and at times even efficient and healthier option than the air conditioning.
The filters of the furnace and the A/C are the first items to replace after you move in. Don't forget you are supposed to do that in the future too – at least three times a year. This will ensure a healthy environment for you and your family.
If you have a back yard attached to your property, hand an outdoor clothesline immediately – it is a much better option than the indoor clothes rack in the laundry room for example. While you are there, think about planting shade trees nearby the house – you will thank us about this in a couple of years.
Check the plumbing under the sinks, the toilets and the faucets for leaks and constant running. Such problems are easily fixed, but you should find them on time, so that no worse problems occur.
Get rid of the old school light bulbs. Modern technology has brought to us LED and CFL lighting which is more powerful, energy efficient and last but not least more durable than the conventional hot wire bulbs.
Last but not least, change the locks and make enough spare keys. Changing the locks of even a brand new house is very important, because you never know who made copies of your old keys – it is better to be careful than sorry, right? Changing locks is not a hard thing to do – and even if you do not feel up to the task, you can call a technician to do it for you – it does not take much time.