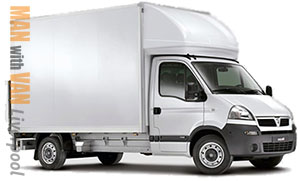 Many people who are in the process of organising their property removal would be willing to hire a removal van and do their own driving. This is not a bad option, if there is a qualified driver available who can do the job properly. Regardless of who will be doing the driving, one must be well aware of what vehicle options are there, and which type of vehicle is best suited for the scale of the removal in question.
In the UK, there are a number of widely used man and van removal vehicles of different size, wheelbase and load capacity. Some of the vehicles can be driven by a person holding a standard driver's license, others however would require specialised driving qualification.
Here are some of the removal vehicles available for self-drive hire:
Combo Style Van, also known as a panel van, this is one of the smaller removal vehicles you have at your disposal.  This is a compact cargo vehicle able to carry single passenger alongside the driver. The combo style van has about five hundred kilograms of payload capacity which makes it ideal for single item removals in metropolitan areas. The Combo Van has about three and a half cubic metres of cargo space available.
Standard Wheelbase, Low-Top Van – a cargo vehicle best suited for small to medium metropolitan removals. This type of van will be able to carry the contents of an average studio flat. Two passengers can travel alongside the driver. The vehicle offers eight hundred and fifty kilos of payload capacity.
 Long Wheelbase, High-Top Van – This is the larger version of the standard removal van. It is able to haul over fifteen hundred kilos in payload. Its high top gives it cargo volume of three hundred and fifty cubic feet. The van is suitable for midsize metropolitan removals. When loaded correctly, the vehicle should easily fit the contents of a one bedroom flat.
 Luton Van (Long & Short Wheelbase) – The Luton is a more powerful removal vehicle able to haul heavier loads over longer distances. Also known as box vans, Lutons make use of a hard-wall or canopy cargo bay. Some Luton vans available for hire are fitted with hydraulic tail lifts for quick and safe lifting of heavy items. The largest version of Luton available for hire is the Jumbo Dropwell Luton, which provides for a staggering nine hundred and fifty cubic feet of cargo space.
Dropside Flatbed Pickup Truck – this is a heavy duty transport vehicle, featuring steel, powder coated headboard. The vehicle can carry two passengers alongside the driver and provides for substantial payload capacity combined with sufficiently large cargo bay at the back. As this is a flatbed, open truck loads must be covered, fastened and secured properly prior to transportation.
Twenty Feet Box Van – the king of large scale property removals. Despite its size, this vehicle does not require a qualified driver. Most of these trucks are equipped with hydraulic tail lifts. The 20ft box van has about three thousand kilos of payload capacity, spread out in approximately one thousand cubic feet of cargo space. Ideal for long distance, large removals.