The process of moving houses is your everyday stress for an year in a nutshell and then multiplied by ten. Your home is such a huge part of your life that moving it to a new place inevitably strains your nerves. But as much as it's difficult for an adult to deal with a big change in their lives it's usually much more difficult for children. You as an adult can easily see the necessity and possibly the benefits of changing houses but a child may have a hard time understanding that.
There is no easy way to approach that matter. Kids are people too and each one is unique in it's thoughts, emotions and reactions. It's quite possible your child is more excited than you about moving to a new home. If that is the case – consider yourself lucky. If not – read on.
Probably the best way to deal with your child's problem with moving is to reverse negative things into positive. The first and probably biggest problem is the friends. Moving to a new place mean loosing his or her friends in the old one. Yes, children are probably more social than grown-ups and they'll get new friends in no time but before the move it all looks rather bleak from the child's perspective. So put the emphasis on the move being an adventure. You move to an exciting new place with exciting new people. Don't look at it as loosing your friends – you'll still be in touch with then via the social networks (and they will be), but as an opportunity to meet new people and make a lot of new friends.
It recommended you take the kids to see the new home and neighborhood before the actual move. Show them around a couple of times, if possible show them the interior of your future new home. Try to transform the unknown into something familiar. Of course it would take some time after you move in for them to get accustomed but it will definitely ease the process.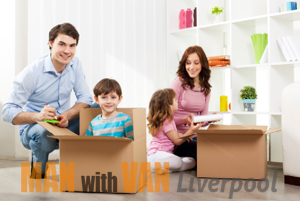 Another thing you might want to do is buy them something. A small gift, a toy – something they'd appreciate. It's a bit of a cheap trick, admittedly, but "bribing" your kid in such a way tends to produce the desired results because let's face it – children love gifts.
To make things easier for everybody you can also have specialists deal with the removal. Hiring qualified help is a great idea not only because it would ease relieve you of some of the stress but because it would free you some time. Get a man with a van in Liverpool to do the house removal and invest the time to spend with your children. It's probably the best way to make sure they feel ok about moving in a new home.