We are all familiar with the question: "If you were stranded on a deserted island, name 3 things you would bring?". Imagine being asked this question at school during a mock conference Q&A session. You will never guess what was the most surprising, the most unexpected and yet the cleverest answer of all. "My grandmother!" – said one of the students without even skipping a beat, while all the others were silent, thinking which of the numerous valuable possessions they have deserve the honour of coming with them. "She'll take care of everything else." – continued the boy. The teacher smiled down at him.
A grandma for everybody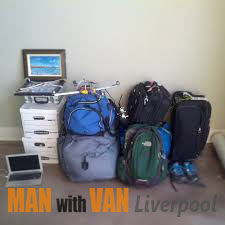 Now whenever we start packing our staff for vacation, business trip or even relocation we look at all the numerous clothes, shoes, cosmetic bags, books and stationary that we have just think of that answer. "My grandmother". It is a very good idea to have her around. The benefits:
She can wash and iron your clothes, then fold and sort them before finally arranging them in your cupboard.
She can give advice on how to maintain your silverware or polish your glasses.
She can cook, lay the table and wash the dishes afterwards.
And she would certainly be irreplaceable when it comes to moving to a new flat. You bet she knows some clever tricks about how best to pack your plates and glasses without any danger of breaking them during the move. It will probably even be easier for her to make your friends or neighbours help you carry and load all the boxes or pieces of furniture. Because who would say "No" to a nice old lady, right?
Unfortunately not all of us are blessed with a grandma hanging around and ready to help. If you are one of the unlucky ones, don't become low-spirited. There are many professionals in the moving business that would be able to help you with any step of your moving project.
On the move
If you are one of those professionals, whose jobs requires monthly business trips and relocation every year or two, you are probably already an expert in packing your belongings. Most probably you have even grown into the habit of not needing and possessing so much staff. Have you come across any of Lee Child's books about Jack Reacher? He definitely knows how to travel light. The only thing he packs is his travel toothbrush, simply putting it in the inside pocket of his jacket. Well, let's not forget that he is only fictional, though, and being a real person you do have some staff to pack and move across country or even abroad. Most companies, who relocate employees regularly, are usually providing them with professional assistance to facilitate the transition. There are often several services included and depending on the package offered by the employer they can come in various combinations. Some of the most common ones include:
Providing a company apartment to move into or assistance in finding a new apartment, which may be accompanied or not by payment of the rent for the first few months;
Covering any car/bus/train/plane fare for you and your family members, excess baggage included;
Hiring a professional removal company to deliver all your belongings to your new home;
Providing free language courses for you and your family members in case the relocation is to a country that has an official language different from your mother tongue;
Assisting your spouse in finding a job;
Guaranteeing access to day care, kindergarten or school for your children.
Additional payment for certain period of time to compensate for the inconvenience of having to move houses.