Property removal and man and van services are usually carried out using a special type of vehicle, commonly referred to as a van. The vehicle however is different to a normal van and is specially equipped for the task at hand. The most common type of removal vehicle currently in use in Great Britain is the so called Luton van, also called a box van. The popularity of these vans can be attributed to a number of factors.
Suitable for metropolitan/built up areas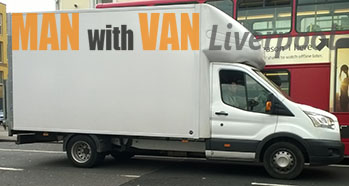 Luton vans or box vans usually come in three chassis sizes – long, medium and short wheel base. The size of each vehicle is quite well suited for navigating tight city streets (as compared to larger removal and delivery vehicles). Most removal companies operating in metropolitan areas handle small to medium sizes property relocations and see many advantages of using a relatively compact size vehicle for the job. A Luton van also provides flexibility when it comes to parking space. A vehicle of this size is much easier to park closer to buildings and houses making the entire removal process much easier and more efficient.
Moderate running and maintenance costs
Running a Luton van is considerably cheaper than running a larger removal vehicle such as a 7.5 ton truck. Maintenance and repair of box vans is not overly expensive and works well with the budget of many man and van companies in London and other large cities. Of course, the maintenance and repair of late model Luton vans is more expensive than that of an older model vehicle, but that's the case with any car, van or truck.
Licenses and insurance costs
One of the main advantages of running Luton vans is that according to current UK laws they can be driven by drivers holding standard B category UK license. In other words they do not require a truck license. Most box vans have a curb weight of three and a half tons which is the limit for a standard B category UK license. Driving any cargo vehicle over 3.5 tons will require a C category license (truck license). When it comes to insurance of Luton vans, costs may vary greatly depending on the particular policy and coverage needed, but overall insurance costs for commercial vehicles of up to 3.5 tons are considerably smaller than those of larger vehicles such as 7.5 ton removal and delivery trucks.
The 10 most popular vans in the UK
Great Britain is one of Europe's largest van markets, including for Luton or box vans. Consumer choice is usually the determining factor, people choose their workhorse vehicle based on cost and reliability. The table below includes various types of vans and is indicative of the market as a whole.
1.       Ford Transit
2.       Ford Transit Connect
3.      
Mercedes Benz Sprinter
4.       Volkswagen Transporter
5.       Volkswagen Caddy
6.       Mercedes Benz Vito
7.       Vauxhall Vivaro
8.       Citroen Berlingo
9.       Vauxhall Movano