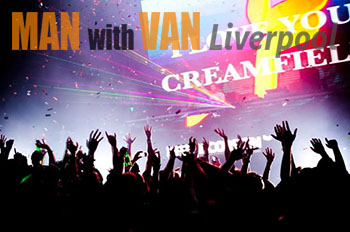 Traffic police will be out in numbers throughout the Creamfields Festival weekend as many people are stopping on the highway to drop off or pick up festival goers, which as one can imagine is rather dangerous for passing traffic and people themselves. Junction 11 of the M56 will be strictly controlled by traffic police officers, who will be handing out hefty on-the-spot fines to drivers pulling over on the highway. Traffic police will also be on the lookout for people who are walking to and from the festival using Junction 11 at Daresbury. The tight control measures will be in place over the festive weekend from 28th of August to 30th of August.
The annual Liverpool music event enjoys quite a bit of popularity with fans, and is expected to bring in about sixty thousand visitors. People are banned from using the highway to walk to and from the event, furthermore drivers who are seen pulling over on the highway shoulder or in live lanes will be handed a thirty pound fine right away, so be sensible and find another route. In order to avoid any further traffic congestion and to save journey time, traffic police advise people to find an another way to get to and from places they need to be. Better find an alternate route for your man and van removal if you got it scheduled for the last weekend of August. As mentioned, those seen walking along the highway will also be slapped with a hefty fine of fifty pounds. People walking along this stretch of the highway have been an issue for traffic police in previous years too, especially when leaving after the event is over.
Since there will be some delays over the festival weekend, traffic police will do whatever necessary to keep traffic going at its usual pace, or as close to it as possible. Again, drivers are advised to plan ahead and account for the expected delays. It would be best to use an alternate route if possible. Police also advise motorists to stay up to date with daily and hourly traffic information and reports.
People wondering around the highway, and cars parked on sides of the road is a dangerous recipe for disaster and everyone should use their common sense, and not place themselves or other legitimate motorists in danger of collisions or worse. Those picking up or dropping off festival goers should use the designated points around the actual venue which will be clearly marked for all motorists to see. Unfortunately, history has seen some traffic accidents and casualties over the festival weekend in previous years, so now traffic police will do whatever necessary to prevent history repeating itself.
On the same note, road police are advising drivers to plan their journey well for the upcoming bank holiday weekend at the end of August as congestion and delays are expected. The heaviest traffic over the holiday weekend is expected to be along the M56 and M6 roads, so plan ahead and stay safe.