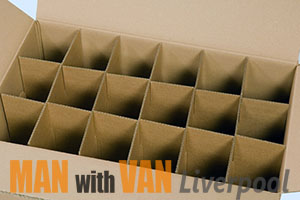 You are currently in the middle of a relocation and you are honestly having a hard time packing your glassware. If that is your case, keep calm and keep reading because we have posted down below a helpful step by step tutorial that will allow you to pack your glassware meticulously.
Before we present to you our tutorial we will tell you that the easiest and most efficient way to pack your glassware is to use professional man and van services. So if you have hired already a moving company have it pack your glassware for you. Sure it will cost you some money, but on the other hand you will have the peace of mind that your glassware will be delivery to you in one piece. Alternatively if you haven't yet hired a man and van company, seek out and hire a company that provides packing services along with the traditional moving services.
If you are still determined to pack your glassware on your own, here is what you should do to guarantee the safe transportation of your fragile and delicate items.
Commence the packing process by gathering the right packing supplies (boxes, bubble wrap, old newspapers, and sellotape)
Next gather all your glassware in one place and group them in the following manner: small items, mid-size items and large items.
Once you have grouped your glassware, start the packing process with the small items. Wrap each item separately with bubble wrap or newspaper or both. If you are wrapping hollow items such as glasses make sure that you fill the inside of the items with bubble wrap or newspaper sheets. Once you have wrapped all the items, start putting them in boxes. Always fill the boxes half way. This way the boxes will be lighter and you will eliminate the possibility of the boxes tearing from the bottom. All the more the lighter the boxes are the easier they will be to lift and load.
Next wrap your mid-sized items in the same fashion as your small items. If you are wrapping plates, wrap them separately and place the plates atop one another in the box. Once again don't fill the boxes completely to prevent any unwanted tears. Keep in mind that these boxes will be heavier than the boxes with the smaller items, so if necessary double the amount of boxes in order to be on the safe side.
Large items such as mirrors you should wrap with several layers of bubble wrap and if necessary cover the items with

one or several furniture blankets

. When you are loading your large glassware, always leave them for last and never place them in a vertical position. Instead place them laying down on a flat surface. Also don't surround the items with small items that may falls during transit. Last but not least if necessary transport these items separately from the remainder of your belongings. Although you will be making an extra trip, it will be well worth it.