Old London town has witnessed more than domestic and commercial man and van removals. Over the years, a number of well-known whole structures have been relocated to, from and around the city.
About halfway through the nineteenth century, the plan was for the newly rebuilt Buckingham Palace to use London's famous monument Marble Arch as its main entranceway. As it turned out though, the arch was too narrow for the royal coach which made it unusable fort this particular purpose. In result a decision was made to relocate Marble Arch as a whole structure to its current location in Hyde Park. This took place in eighteen fifty one.
The next example is also a rather interesting one, though this time it comes from Turkey. In nineteen thirty six, Mustafa Kemal Ataturk – the first president and founder of the modern Turkish state went to some length to preserve and protect a single tree growing within the bounds of his summer house property. The state head ordered not to cut down the tree, but to move his summer house four metres to the east, and so it happened. The summer house structure was removed as a whole, no disassembly.
The first record breaking whole structure removal took place in Bogota, Colombia in nineteen seventy four. The removal project was a Guinness Book of Records holder for thirty years! The building that needed moving was quite a piece – eight stories high, weighing in at seven thousand metric tons. Try moving that with a man and van removal service! The distance of the move was only ninety five metres, but shifting a building even a single inch is massive achievement. The purpose of the relocation was to open up room for the construction of an important city road artery.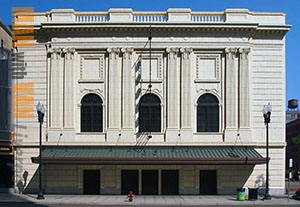 Next up is the longest ever relocation of a whole building. The project was completed in Detroit, US in the late nineteen nineties. There were two theatres of important historic value, housed in the same building in downtown Detroit. The building had to be moved six blocks in order to open up room for a new shopping centre. The distance travelled by the building totals five hundred and sixty three metres which makes it the longest distance known removal of an entire, sizable building.
The heaviest ever building to be relocated as a whole is the Shubert Theatre in Minnesota, US just before the end of the twentieth century. The structure weighing two thousand six hundred and thirty eight tons (two thousand six hundred short tons) was relocated three city blocks away.