Don't entrust the relocation of valuable items or irreplaceable personal belongings to just any company out there but secure a specialised van removal through the most efficient and reliable van delivery service provider in L7 – us. Our man and van in Edge Hill is unrivalled when it comes to flexibility, convenience and cost efficiency. We have more than sufficient expertise and technical capacity to deal accordingly with basic or elaborate pickup, delivery & removal requirements including but not limited to:
Student relocations and partial property removals i.e. one room, two rooms etc.
Removal of high value belongings like music instruments, artwork, antiques etc.
Removal (and disposal) of heavy appliances, bulky/awkward objects etc.
Pickup & delivery of internet order items and large store purchases;
Fixed schedule pickup & delivery available to private and business customers;
Business 2 business & business 2 customer deliveries;
All other types of small to medium removal requirements, either private or business;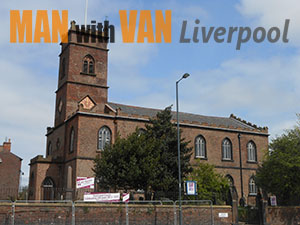 Additionally, we are also licensed and qualified to perform specialised furniture collection & delivery and rubbish removal for residential and commercial properties.
When it comes to cost efficiency and value for money, our man and van Edge Hill delivers. We provide each customer with individually prepared service quotes – onsite estimations can also be arranged for. Also, we offer customised pricing able to meet specific budget requirements of our customers. None of our quoted figures or pricing contain any hidden fees.
We'll handle your move from or to Edge Hill start to finish
In order to make sure each and every item in our care is handled carefully and transported quickly and efficiently we:
Employ professional van drivers who possess the necessary skills and qualification;
Handle the packing, securing and loading of goods prior to transportation;
Maintain a fleet of specialised removal vehicles of various sizes and load capacity;
We offer our customers access to important service advantages such as:
Round the clock assistance, provided via phone and email;
Spot-on removal and relocation advice and tips;
Flexible and convenient booking hours;
Multiple types of payment, including wire transfers and invoicing;
The company holds all required licensing, registration and insurance.
Fully equipped and competent movers in Edge Hill
The logistics and execution of your residential or office relocation will be handled by our seasoned and skilled packers, carriers and drivers. We have put together a team of accomplished movers because our main objective is to provide to our clients top quality and reliable man with van services in Edge Hill, L7. We have equipped our technicians with the best packing and lifting instruments, so you can rest assured that the quantity of your belongings won't be an issue. In fact, we guarantee you that we will complete your move with time to spare.
Edge Hill is situated to the southeast of Liverpool City Centre. The suburb formed and developed mainly during the late eighteenth, early nineteenth century – the Georgian era. Many of the Georgian era homes throughout Edge Hill are well preserved and still inhabited. Since the real estate in the area is of high cultural and historic value, Edge Hill was designated a conservation area in nineteen seventy nine. Many of the structures within the Conservation Area are Heritage listed. The suburb used to feature some Victorian era buildings, but due to one reason or another most of the Victorian structures were demolished. Perhaps the fact that Edge Hill is classified as a conservation area has a direct effect on the district's prosperity and development. Edge Hill appears depopulated, with many vacant blocks of land, and many disused public and private buildings, including pubs and shops. There are however pockets of modern housing throughout the suburb. Edge Hill is the original founding site of Edge Hill University, now moved to another location.
The district of Edge Hill, L7, is served by its own railway station which was opened in 1836 and is one of the oldest in the United Kingdom. It sits on several lines from the National Rail Network and provide transportation services to over 150.000 people annually. The area is also served by several bus routes which pass through it frequently.