More and more people start abandoning the big cities all over the country and move to live in smaller towns and villages. This is a direct reversal of the trend that has been experienced during the Industrial Revolution, and surely enough there are many good reasons behind such a trend, which can be summarized in the following aspects:
Living in the countryside is more peaceful and comfortable
There is no longer need to live in the city in order to have a good job
The overall Zeitgeist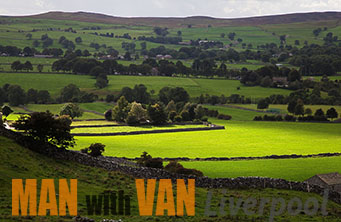 If you have spent the past decades in the busy streets and crowded buses in London, Manchester and Liverpool, you know how stressful living in a big city is in every respect. Surely, there might be many opportunities for cultural and entertainment activities, and you have all amenities that you might ever need right around the corner, but let's be honest, it is much better to live in a small cozy house in the countryside then in a cramped apartment on a noisy street. Furthermore, the Internet culture enables us to purchase everything that we may ever need – from food to furniture to drugs with a simple click of the mouse or swipe on the screen of the smart phone.
Internet is the reason why living in a village might be just as profitable as living near the big commercial districts of London or Liverpool. More and more people nowadays have jobs that allow working from home, or any point on the map for that matter. Actually, many international companies nowadays (we are talking about conglomerates like IBM, Microsoft etc) choose to settle their offices in small villages that have good road and railway connections to a nearby city rather than in the city in question itself. If you are practicing a more or less free profession – software engineer, graphic designer or even stock-market trader, you can do that from a distance. Alternatively, due to the fast and comfortable transport connection network that now encompasses the whole country, nothing can prevent you to live in a small town and commute to work in the city on a daily basis. More people than ever before choose to do namely that because of the peace and quite a village residence offers.
There is a global trend against consumerism and living in the fast lane as a whole that has its roots in the overall nature of the society that we have built in the past several decades. People realize how unfulfilling and miserable living a strenuous stressful life 24/7 is, and they are looking for ways to simply slow things down. What better way to achieve such a thing than to move out of the city and start building a new, much better and let's say it straight – more meaningful life?
What do you think? Have you already started looking for a man and van company that is going to help you relocate your life out of the metropolis you are currently settled at?