Valuable items, whatever they may be need careful handling and quick transportation in instances where a relocation is needed. The best way to relocate items and belongings, regardless how expensive or not, is to use our specialised man and van in Crosby. The service is available for booking by all private and business customers in L23 area. The van delivery service we provide is flexible and versatile enough to cover a wide range of general and specific requirements such as:
Student relocations, single item removals, relocation of high value belongings;
Fixed schedule pickup & delivery for private and commercial purposes;
Business 2 business/business 2 customer deliveries;
Delivery of internet order items and large store purchases;
All other types of small to medium scale removal and relocation requirements;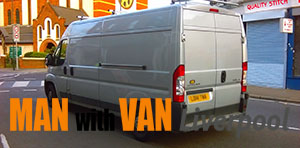 In terms of cost, we are the best thing that happened to your budget. Our customised quotes and flexible pricing will definitely sit well with most if not all private and business customers in L23. Just a reminder – there are no hidden fees or unmentioned additional charges. Onsite quotes and job viewings can be arranged for a more accurate price estimate.
Since we need to avoid damage or misplacement of items during handling and transit, and ensure timely intact delivery, we:
Work with qualified and experienced removal drivers;
Do the packing, securing, labelling and loading of items prior to transit;
Use high durability, industry grade packing and wrapping materials;
Maintain a fleet of specialised removal vehicles (fully equipped & GPS tracking);
In addition to our general purpose van delivery service, we also maintain and offer specific options like licensed rubbish removals available for private and commercial properties, as well as specialised furniture delivery. Again both of these services are carried out by trained and qualified technicians.
Take full advantage of our removal service options in Crosby
Customers based in L23 will be happy to know we have made our man and van Crosby a user-friendly service solution delivering not only value for money, but also convenience and reliability:
We provide valuable removal and relocation advice;
We maintain twenty four seven customer support via phone and email;
We work under flexible booking hours seven days a week;
We accept different types of payment including invoices;
We are fully licensed, registered and insured;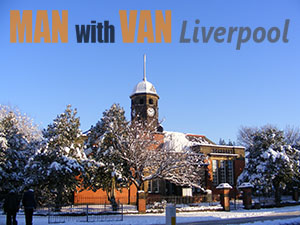 Crosby is one of the towns in the Metropolitan Borough of Sefton, Merseyside. Like many other districts, Crosby too was once part of Lancashire. Crosby is a Viking settlement in its origins, the same as other nearby districts bearing the same '-by' suffix in their name. In Old Norse, the word or name Crosby (Krossabyr) roughly means 'village with the cross'. First official mentioning of Crosby though did not appear until the year ten eighty six, when the Doomsday Book was completed and compiled. The development of Crosby and its inclusion as a proper suburb of Liverpool happened after the arrival of the railways about midway through the eighteen fifties. The Liverpool, Crosby and Southport railway brought development and urban expansion to Crosby. Nearby, is also the oldest Roman Catholic village in England – Little Crosby.